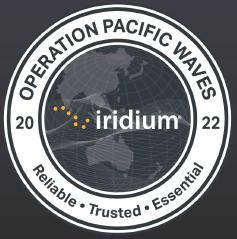 Manassas, Va., Sept. 29, 2022 – In the tropical climates of Hawaii, NAL Research® lead a team to the Officer's Club at Hickam Air Force Base on September 28, 2022. Key members of Indo-Pacific command organizations, including the commanders of the Pacific Air Forces (PACAF), the Special Operations Command for the Pacific (SOCPAC), and many others observed Iridium's INDOPACOM field exercise,
Operation Pacific Waves. The team immediately began setting up a selection of NAL Research's narrowband products configured to display tracking of SHOUT Nano and Quicksilver devices on a predetermined TAK server specified for this operation. The NAL Research team also demonstrated the capabilities of their newest product to hit the market, the QUICKSILVER®, delivering the latest Iridium
Certus® 100 midband service in a compact, ruggedized package.
With participation from our own deployed teams as well as partners presently located in Australia, Alaska, Virginia, and Hawaii, NAL Research showcased the operational need for Beyond Line-of-Sight (BLOS) and Over-the-Horizon (OTH) communications in the Indo-Pacific region while on-base, On-TheMove (OTM), and remotely from the field.
The team was effective in demonstrating a wide range of Friendly Force Tracking, Assured Position Navigation and Timing, and other new technologies all over the Pacific Rim during these SATCOM field exercises. Iridium's reliable mesh network of satellites in Low Earth Orbit (LEO), provided us (and provide our everyday customers) with truly global coverage anywhere in the world, even in the remote locations or vast oceans of the Indo-Pacific.

NAL Research enjoyed the opportunity to showcase how their devices contribute to Iridium® satellitebased situational awareness and communications solutions in the PACOM AOR and around the world and enjoyed the chance to catch-up with customers, partners, and teammates alike.
To learn more about Operation Pacific Waves, CLICK HERE.